The first thing to do is get a good headline!
But before I go into how to do this, I need a short rant…
LinkedIn, oh LinkedIn what HAVE you done?
Why are you no longer displaying the summary section in full?
You do know its so tough to get people to click through to see more content, don't you?
As a writer, I LOVED the summary section. It was a great place for people to to sell their story.
It was the place people could translate the benefit of their experience to future employers.
They had the opportunity to explain what they were passionate about, the difference they'd like to make in the world, and above all seem human.
And LinkedIn displayed it prominently on the profile page.
The summary section was also a great place to pitch a career change, or to promote something that was not obvious from reading about someone's experience.
Now things have changed.
LinkedIn now ONLY displays the first 216 characters of your summary section.
After that the reader needs to click down to read more.
What's more, your social activity on LinkedIn has now become a key part of your personal brand. Your blog posts, shares, likes and comments are now displayed prominently on your profile.
You can see how this works highlighted this on my personal LinkedIn profile below.
Another big change is that in the experience section of your profile, LinkedIn only displays your current role in full.
You can still populate your experience section with your previous roles. However, this is now like the summary section. The reader needs to click down to read more about what you've done.
What do LinkedIn's platform changes mean if you want to stand out?
The good news is that there are still GREAT opportunities to stand out.
You just need to approach this differently.
Before I wrote this blog post, I did some deep dives into 50 LinkedIn profiles of Marketing Managers.
I wanted to see how people were responding to the changes, and identify the critical things you need to do with the new platform.
I was thinking that if any group of people would be across how to make the most of LinkedIn, it would be professionals in this sector.
Was I right?
Let's do the maths.
Here's what I found.
50% had 500+ more connections. (tick = good)
Only 8% had expressed what they currently do in their experience section in an easy to read way that would inspire me, or make me pay attention. Beyond putting in their title the majority of people had simply left this section blank. (cross = not so good)
80% of people had not updated their headline with key words or a branding statement. (cross = not so good)
Just over a third of people (36%) had paid attention to their pitch at the top of their summary. (cross = not so good)
Only 22% of people had made the most of LinkedIn's activities and article section, with a personal blog post and some social activity. (cross = not so good)
16% had a banner that supported their professional brand, or messages in their profile. (cross = not so good)
The new look and feel of LinkedIn is a few months old now.
So my take on this  behaviour is that while people are adding connections or accepting invitations, if they've not updated their profile for the new platform, their level of engagement is probably pretty low.
However, here's the good part.
If you're looking for a job this bad behaviour on LinkedIn is a big bonus.
Pay attention to what I am about to tell you, and might love me forever.
Here's what you can do to stand out on LinkedIn's new platform
1. Fix up your LinkedIn headline
I have said it before and I'll say it again, your LinkedIn headline is almost the most powerful piece of real estate you own on LinkedIn.
A good headline tells someone what you do (with a few key words) AND invites curiosity.
When people (like me) receive hundreds of invitations per week, your headline may be the only thing that prompts people to click through to check out your profile and connect with you – instead of simply ignoring you.
Take a look at these recent invitations I received.
I did not accept T's kind invitation for a free reading, but if I was in the market for hiring a tarot card reader I think I might just do that 
On a serious job hunting note, a good headline helps you be you and stand out from a crowd of others with similar experience.
In the example below, M and K have nailed it.
They're not in my list of naughty Marketing Managers.
They tell me more about what they specialise in and the value they can add.
2. Pay attention to your 216 character pitch at the top of your summary section
This is so not an easy thing to do.
When I am helping someone with their profiles, I tend to write this bit last.
The reason for this is that things that are captivating about someone or important to display, often only become obvious after some reflection on everything someone has achieved, and the type of roles they're aiming for.
Here's an an example of a pitch I found earlier.
I have to confess I fell a little bit in love with L after I saw this – in a purely professional sense of course.
There is a reason good copywriters get paid big bucks and L demonstrates this beautifully.
Not only does she tell people what she does, but she gets to the heart of problems people may have had with previous copywriters (not collaborating or meeting deadlines, for example).
Getting into the mind of your prospect, addressing their fears in the words they use to describe them, is copywriting genius.
Here's another lovely example of a profile summary pitch.
The thing that both Zoe and L do so well, is follow another two of the big rules of great copywriting.
Each word needs to justify its existence on the page.
Each sentence must lure you into reading the next.
3. Share if you care and boost up your blogging mojo
As I mentioned before your activity on LinkedIn is now a bigger part of your professional brand
Your social profile is networking on steroids. You might share something with one person, but the thing you share is visible to many.
Now I know this statement is obvious, but I think there are a few things people forget here.
So here's a timely reminder.
You build relationships by giving generously. If your article and activity section on LinkedIn is all about what you're looking for (ie hiring new staff), then the fact that you're constantly asking for favours becomes a big part of your professional brand.
A great way to be generous is support others by sharing insights that might help them. You could also like, comment or share their articles.
Here's a great example of someone who's made the most of this section on LinkedIn.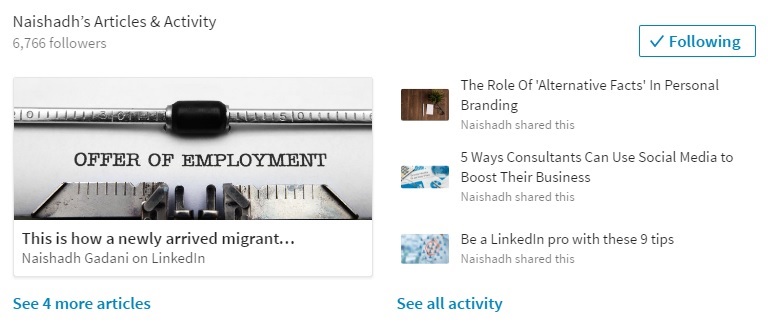 Naishadh's blog is particularly genius because his picture supports his article really nicely – which is a handy way to get around the blog article headline character limit.
This brings me nicely to my next point.
4. Use your experience section job titles to prompt click through
In some cases, where it's appropriate, I am now putting a key achievement in the experience section job title.
This is what I did recently for a business development role.
Sales Manager | Business  Development | Increased Revenue by 23% Y1
In these roles, for example, there's an overall goal – where all activity ultimately leads.
The reader can scroll down your profile, and get a quick sense of what you can do – then hopefully click through.
5. Now's the time to get your LinkedIn header happening
Given this is such a great feature – an amazing way to stand out, I am surprised that so few people have taken advantage of this.
Think about it like this.
We are very visual creatures.
If we see someone in a uniform, we automatically make an association about what that person does.
Your header could serve you in the same way.
That's why I loved Candice's header so much.
At the time she was a User Experience consultant. But people really struggled to understand how her thought process worked. So she took a photo of her whiteboard.
My take from this image is that Candice is:
a) creative
b) visual
c) organised
d) happy to lift the lid on what she does.
She's demonstrated this in one simple image, supporting any claims she may have made in her profile.
Need more help?
For more information on how to build a great LinkedIn profile, visit my website: www.interviewiq.com.au